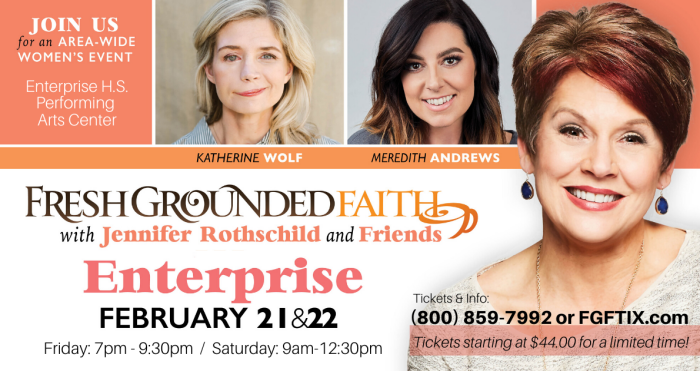 You have a chance to win tickets to Fresh Grounded Faith with Jennifer Rothschild, Katherine Wolf, and Meredith Andrews Friday and Saturday, February 21 & 22 at the Enterprise H.S. Performing Arts Center.
Please fill out the form in order to register to win a set of 2 tickets to the event.
Please submit your entry by Wednesday, February 5 at 12:00 noon. Winners will be announced later that week.
One entry per family, please.
***CONTEST RULES***
1) Contests are offered on-air and/or online and promoted through Faith Radio and FaithRadio.org. Contests are also possibly promoted through associated publications and social media.
2) Contest entrants are allowed to win once every 30 days.
3) One entry is allowed per immediate family.
4) Members or immediate family members of the Board of Directors and Staff of Faith Broadcasting, Inc. are not eligible to participate in Faith Radio contests.